Property for sale
Łopuchowo - construction plots 19.32 ha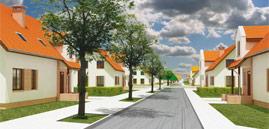 Łopuchowo - Murowana Goślina commune/ 30km from Poznań.
Plots surrounded by the Landscape Park - Puszcza Zielonka.
Undeveloped property located in Łopuchowo - Murowana Goślina commune with plot size 19.3276 ha. Plots covered by the land and mortgage register  no. PO1P/00270279/3 and  no. PO1P/00233211/8. The plots are currently classified as arable land "R".
After completing the new property division plan, presenting changes in the Department of Geodesy and Cartography at the Poviat Starosty, presentation of changes in the Land and Mortgage Registers, there will be a change in classification according to the current local spatial development plan for the area intended for single-family housing (MN1).
The offer price is: 4.000.000 zł
Details of the offer can be found in the attached PDF file
Słupsk - construction plots 14 699 m² - 

SOLD
A multi-family building ground for sale in Slupsk, Poniatowskiego Street.
Price: 3 500 000 + TAX. Area: 14 699 m²
A building permit design ,,Zespół zabudowy mieszkaniowej wielorodzinnej BALTIC PARK" ('A multi-family condonimum development unit BALTIC PARK' ) has been implemented, which expects building a housing estate in here. Five four-storeyed buildings, standard and underground parking lots, a playground and many others will enter into the composition of it.
Basic data:
Form of ownership: private domain
Type of plot: a multi-family building plot
Road access: asphalt/concrete
Commercial space: 14 699 m²
Fencing: not available

Additional information:
Current: Yes
Gas: municipal
Water: serviced plot of land
Sewage system: municipal